A Message From June Hardin
To Our Customers
From the first day, when we started Wapello Fabrications, satisfying our customers has been our ultimate goal. That was over thirty years ago. And, since then, because of our repeat business, we feel that we have achieved this standard. Our customers have been our best form of advertsing and we are proud of that. Behind our products' striking colors you will find quality, safety and versatility built in. Each of our inflatables is made with heavy duty vinyl and sewn with double rows of lock stitched seams. Our internal air chamber design eliminates "bottoming out" by keeping the jumping surface firm, reducing the chance of injury. And today, Wapello Fabrications' inflatables are perfect for any application. They are used in shopping malls, pre-schools, fund raising events, theme parks, tourist attractions, and of course, carnivals. Over the years we have seen the inflatable attraction industry change dramatically. But one thing has not changed... you, our customers. You are still the nicest people in the world and we always strive to satisfy you.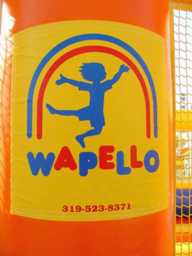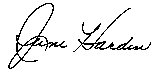 June Hardin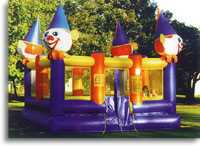 clown heads...see larger image!
Features easily changed or custom designed heads for the corner posts!